ColorBase GM Brend Kouwenhoven aims to Reduce the $90 Billion of Waste in Print
February 4, 2023 by Jack Gocher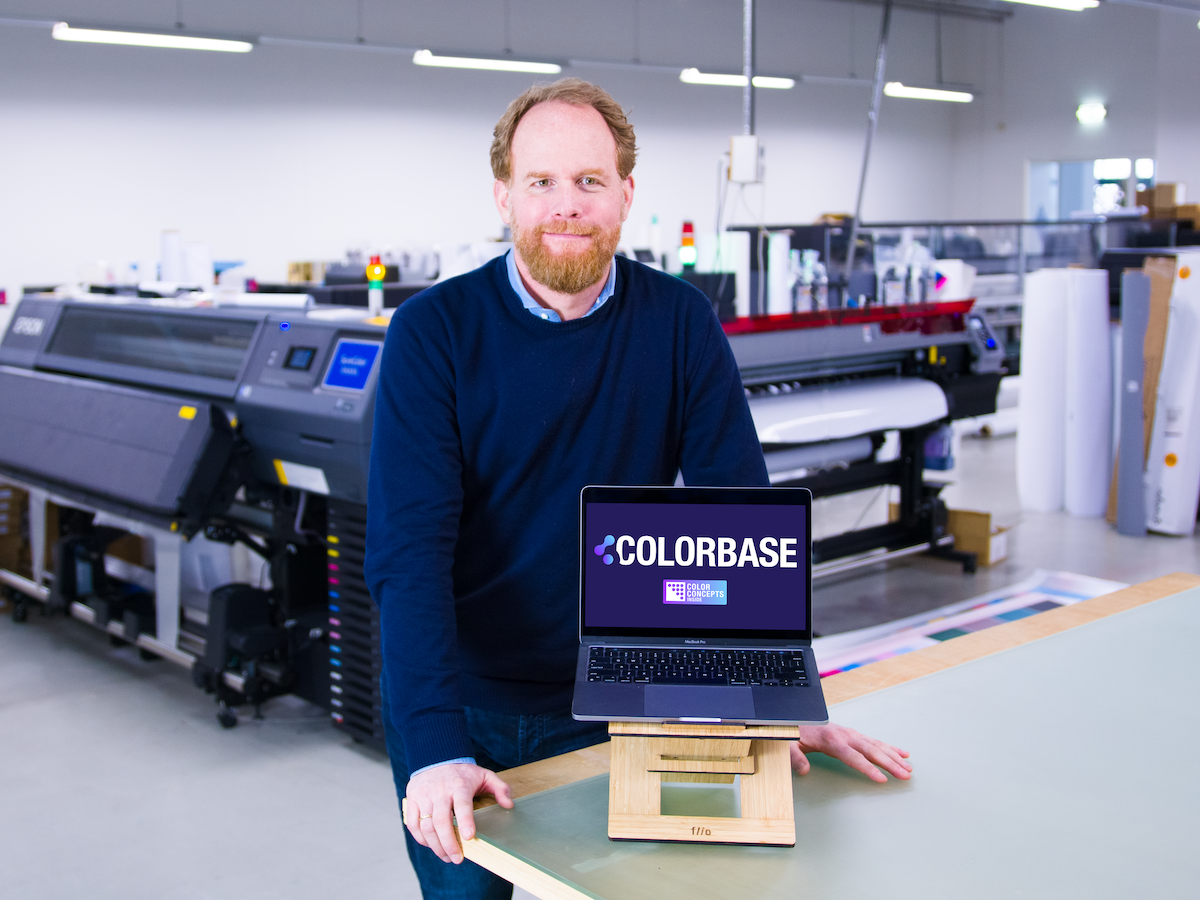 Brend Kouwenhoven, the new general manager of ColorBase, has joined the company to oversee the transformation and rebranding of the business into a fully digitised and democratised resource. He and the company are on an exciting mission to reduce the massive cost of printed waste on the industry and our planet.
It doesn't matter where you look, printed products are everywhere. The industry is worth an incredible $900 billion. That's a lot of print! Estimates also suggest that 10% of everything that is printed is waste. That means something went wrong. There are many reasons for this, but it was often simply that it didn't look right, wasn't the right colour, or was not the right material for the job. Of course, some mistakes are inevitable, but repeating the same mistake, or making them because of lack of accurate information beforehand, can and should be avoided for economic and ecological reasons.
However, is it really surprising? For any single item that needs printing, there are thousands of different media to print on, hundreds of different printers and dozens of different inks and configurations. This means there are millions of different possible outputs, depending on the workflow. The team at ColorBase see this as an opportunity to take out a lot of the guesswork and trial and error in printing to make inroads into that 10% wastage.
"The printing process is there to create applications, not simply produce output," says Brend, adding, "It might be to create a traffic sign to last for many years, a tin can with the right colour or a vehicle graphic to withstand tough conditions. Whatever the application, the colour usually needs to be 100% accurate, and the overall product needs to comply with any environmental or regulatory requirements that go with it, such as UV/fire/wind resistance, slip levels etc. Otherwise, that print will have to be redone, which is a waste we shouldn't have to subject our planet to."
To drive this forward, the company is going through a rebranding process that sees the formation of three distinct products and product teams under the core ColorBase identity; these are ColorBase Labs, ColorBase Exchange and the ColorBase Toolbox.
He continues, "We are a technical and scientific company by nature, which means we always look for the best and most efficient solutions. We believe we have created something revolutionary for our industry that will also greatly benefit the environment. Over many years, our labs have tested thousands of print combinations and developed great software and testing processes to do this. It amounts to over 1.2 million unique recipes for successfully matching the right media, print and ink and configuring them to deliver the right solution the first time."
ColorBase is already known for working with manufacturers and printers and then making this data available through the ColorBase database. The new challenge for Brend and the ColorBase team is to take this to a new level. Through its rebrand, ColorBase will provide the software and process methodologies to enable the testing to be carried out locally by manufacturers or approved testing centres. The challenge is to ensure these tests are consistent, accurate and recordable so that the results can be digitised and made widely available through the ColorBase database.
Brend adds, "This is a natural evolution of the work we have already been doing. We have built a strong foundation for testing that allows us to develop and communicate a structured testing environment for others to follow. Why? Because we know this process reduces waste, and the more it can be done, the more waste we can take out. Our skills are in digitising and democratising the process and testing software. We then make the data readily and easily available to manufacturers, printers, brand owners, and specifiers."
Enabling better decision-making for the planet
Waste is the biggest issue that the new ColorBase model aims to improve. 10% of a big number is also a big number, so anything that helps reduce it will be a huge benefit. However, ColorBase will further help the environment by allowing end users to make better decisions about the products and media they use.
"Having accurate information to hand is the real driver for change here. If people can see the options that will work for their application, they can make their selection based on price, quality and what is good for the planet in equal measure," explains Brend.
A great example would be to consider a major international shoe manufacturer. For them, the brand image is critical. Shortly after a new product has been designed and launched, hundreds of thousands of printed cardboard boxes will need to be printed with the same colour, including the potential for personalisation. They also want to use materials that meet their own sustainability requirements. The ColorBase database will be able to give them the information they need to select the best media/printer/ink configuration to achieve these goals quickly and accurately, ensuring a smooth rollout with minimal errors.
2023 will be a big year for the company as the rebranding and new corporate strategy becomes reality. "We are initially focusing on the market's large format printing sector mainly because colour accuracy is critical and the potential for reducing waste is high. We also have great partners in this sector that understand what we are doing and will be invaluable in helping us achieve our objectives."
Brend concludes, "Our core focus with ColorBase is to help the planet by reducing the huge amounts of waste generated by the printing industry. We are giving manufacturers, printers and brand owners the tools they need to be sure that what they are designing and printing will be right the first time. We have the know-how to ensure tests are carried out well, and accurate research data is created and delivered in a format accessible to everyone who needs it. Printing it right the first time will naturally result in less waste, fewer resources and the ever-increasing potential for a better future for the planet."
The roll-out begins early in 2023 and full details will be available on the website and through the company's marketing team. Visit Colorbase.com to sign up for more information.