Your brand deserves
a home on ColorBase

If you're a Material Manufacturer, Printer Manufacturer or RIP Manufacturer, we're offering you a little slice of the ColorBase universe. A ColorBase Printing Hub page provides you with a dedicated landing area where you can both put the spotlight on your organization's printer profiles (and yours alone), while also enriching your profile offering with any other digital content - videos, images, articles, etc. Come claim your part of ColorBase today! 
 Features and Functionality
Images and Media
ColorBase Printing Hubs support embedded videos from platforms like Vimeo and YouTube for seamless sharing of multimedia content.
ICC Profile Download Interface
A user-friendly profile download interface allows easy and exclusive access to your profiles.
Blog and News Articles
A dedicated section for your company's blog and news articles. Keep your audience informed with a wide range of content related to your company, including trends, news, and insights.
Profile Request Form
After your audiences submit specific requirements or preferences for the profiles through the profile request form, the data will be captured with seamless integration options for Salesforce, Hubspot, and Highrise CRMs. Alternatively, if you prefer an HTML embeddable form, we can accommodate that as well. Or, we can send email notifications whenever a user submits an entry.
Marketing-Friendly Custom URL Subdomain
This feature allows your brand to have a unique web address: "yourbrandhere.colorbase.com," which serves as a dedicated and easily recognizable space for your audience to access your content.
Others
We can incorporate additional elements aligned with your goals and preferences, such as interactive features, custom widgets, or unique functionalities. Let us know your specific requirement - we'll bring it to life. 
Promotion Opportunities
Advertising Budget
ColorBase provides a budget of €100/month for three months for Google Ads. Ads will target keywords related to ICC profiles, printer profiles, etc.
Social Media and Newsletter
We'll announce the Printing Hub on our social media platforms and in the bi-weekly ColorBase Newsletter, boosting visibility and engagement with ColorBase's audience.
Email List Updates
Client-provided news and articles will be included in ColorBase's bi-weekly newsletters, ensuring subscribers receive updates about the Printing Hub's developments.
Analytics
Upon the launch of your Printing Hub, you will gain access to a custom-built web traffic dashboard, offering valuable insights through detailed analytics. Monitor and assess the performance of your Printing Hub effectively with real-time analytics, including page views, visitor data, demographics, traffic sources, and engagement time.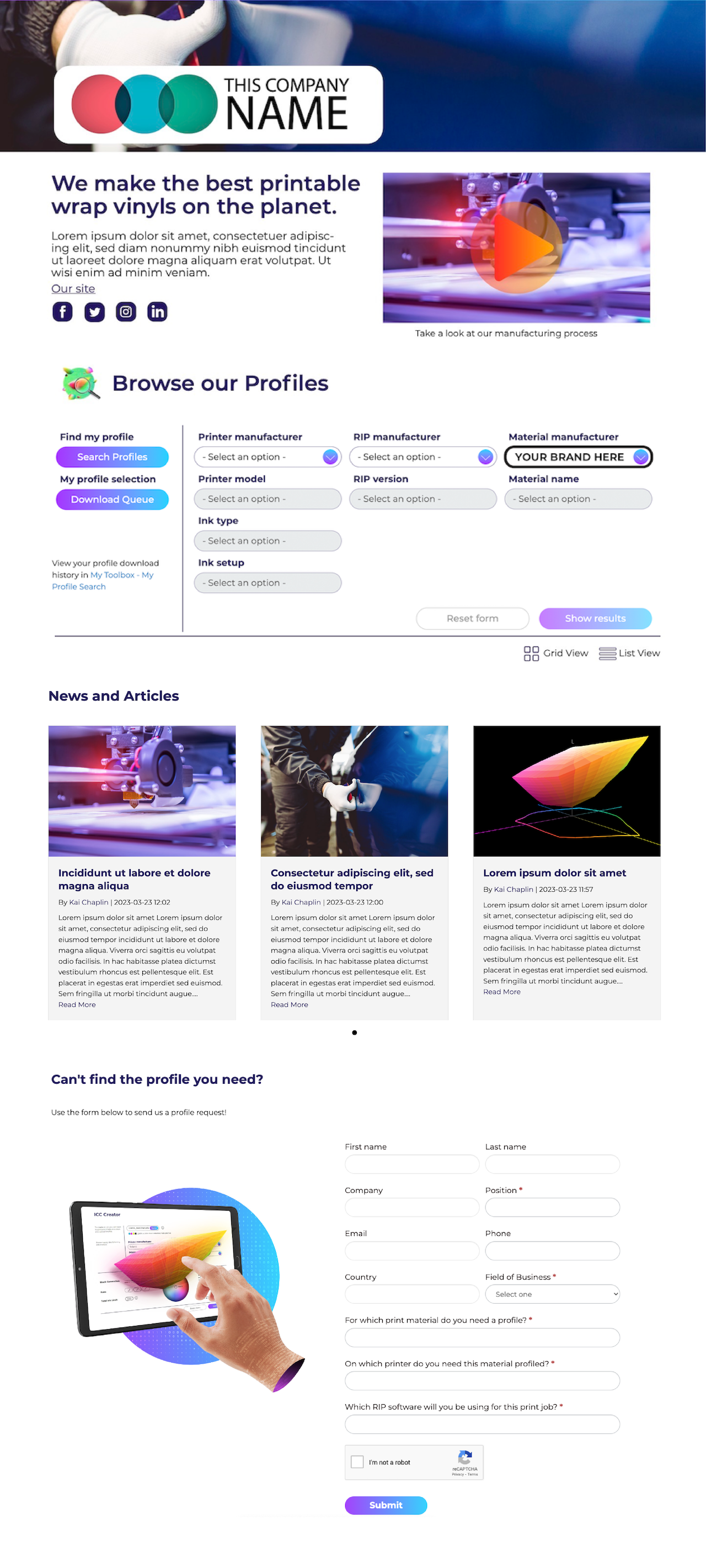 What are you waiting for - let's get you started with a Printing Hub today!