Eye on Display FESPA 22 Preview
May 24, 2022 by Jack Gocher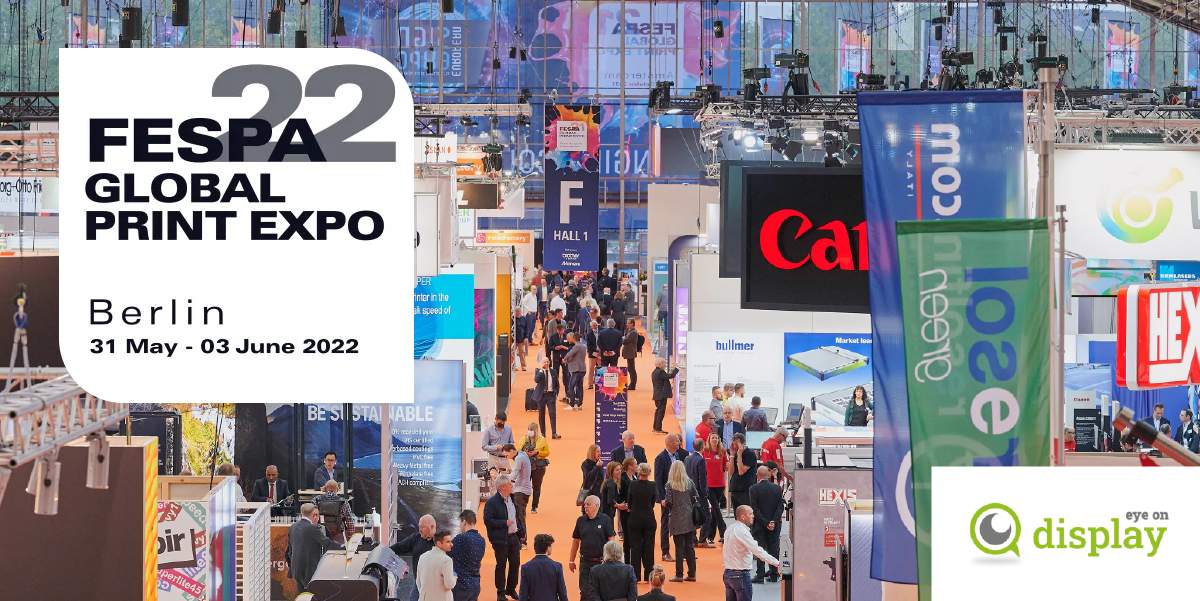 We have picked out some of the must-see stands from the world of large format and have caught up with the FESPA organisers, Fujifilm, Antalis, Mimaki, and more.
We caught up with Michael Ryan, Head of FESPA Global Print Expo itself. "We had a great opportunity in October last year in Amsterdam where, despite really challenging conditions, we brought colour back to the entire print industry. But now for Berlin, with no restrictions, we can expect something really, really special!" he said.
"I think one of the key things is getting everybody back together, seeing each other face to face and doing business. We all love print. We all love what we do. So it's great to be able to get back and really engage with the industry once again."
Watch the video interview with Head of FESPA – Michael Ryan
Michael Ryan has lots of great advice on how to get the most from your visit to FESPA. More details can be seen in the video above.
Also – go along to the FESPA web site for more information, registration and details of how to organise your visit.
"With halls full of exciting companies with loads of new printers, services and applications to show you – seeing what you want to see will require a bit of planning. We encourage you to register for the different events in advance so that you have access to everything you need from your phone. No queues and no waiting around to collect badges,@ says Mike.
"I would say you need three days to really experience everything here – two at a real push. There are just so many good things happening at the show, you want to make sure you have the time to take it all in. The whole team here at FESPA are looking forward to this so much and we can't wait to welcome you to Berlin!"
Exhibitor Roundup - Don't Miss a Thing
Fujifilm – 2.2-C30
Fujifilm will be presenting their new Blueprint Live concept at FESPA. Fujifilm has gone back to the drawing board, to create a new blueprint for wide format that resets the possibilities for ROI. The result is a completely new range of Acuity machines.
Two new products will be unveiled on the Fujifilm stand alongside pre-announced machines: The Acuity Prime 20 & 30 flatbed printers and the Acuity Ultra R2 roll-to-roll printer (5m and 3.2m versions).
Find out more by watching our interview with Kevin Jenner, European Marketing Manager for FUJIFILM Corporation.
Antalis – 2.5-A55
Antalis will be highlighting its continued commitment to sustainability by presenting its range of eco-responsible sign and display materials.  As a premium supporter of the new FESPA Sustainability Spotlight initiative, Antalis will present its latest innovations to support the sector in its eco-transition and offer insight by participating in the conference programme during the show.
At the show will be the Coala range of films, a specialist brand for large format print. Coala has a catalogue of approximately 200 products including papers, films, adhesives and textiles, offering a comprehensive range which is renowned for quality throughout Europe.
Antalis will use this opportunity to showcase the latest Coala innovations for interior decoration which perfectly meet the needs of architects and interior designers. These include Coala Interior Film, a range of self-adhesives with natural effects and in more than 450 finishes for covering walls, doors and furniture, and Coala Windows Décor, a range of decorative films for glass.
We spoke with Chris Green, Director-Visual Communications at Antalis and you can see the full interview here…
Mimaki Europe – 1.2-A30
Mimaki Europe will be showcasing its latest innovative technologies and connecting with customers at FESPA 2022. Following the success of FESPA 2021, the first major European tradeshow for Mimaki post-COVID-19, Mimaki will return as a gold sponsor for this landmark industry event. With a host of new solutions released this year, FESPA 2022 will be the first opportunity for Mimaki to demonstrate these printers and cutters at an international event and further explain the many benefits they offer sign and textile printing companies.
Eye on Display spoke to Danna Drion, General Manager Marketing & PM EMEA and Mark Sollman, Product Manager EMEA at Mimaki Europe. See the full interview here…
Mimaki In the Spotlight
Standout technology on show includes the new 330 series, consisting of the JV330-160, the CJV330-160 and the TS330-1600. Launched during the company's Global Innovation Days event, the 330 Series leverages Mimaki's cross-platform strategy, to offer a high-end yet cost effective printing solution across several sectors. The eco-solvent inkjet printers, the JV330-160 and CJV330-160, boast innovative features such as the new media changer that allows three rolls of media to be loaded simultaneously, and the XY slitter, which provides in-line X-axis and Y-axis sheet-fed cutting. The TS330-1600, which will make its international tradeshow debut at FESPA, is a sublimation printer with an improved take-up system and optional add-ons to further increase efficiency, including a 10kg ink tank supply unit and a mini jumbo roll unit.
Additionally, FESPA visitors will see Mimaki's all new CG-AR cutting plotter, which goes above and beyond the current entry-level technology available in this area.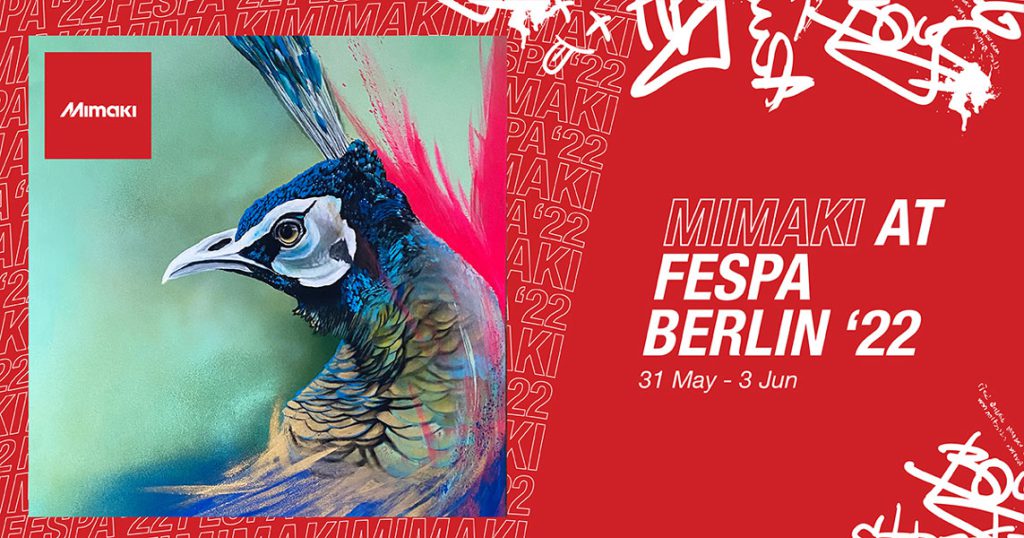 Urbanising FESPA 2022
In line with FESPA 2022's tagline, 'Experience print in motion', Mimaki's stand will bring an exciting vibrancy to the show, by demonstrating real-world applications alongside the machines that created them. This year will see Mimaki's stand convey the streets of Berlin in its design, and urban inspired works by designers, including Nicky Nahafahik and Xavier Protano, all printed using various Mimaki's printing technologies and displayed on the stand – allowing visitors to experience Berlin from inside the Messe Berlin halls. Mimaki will also join forces with Dutch designer Tessa Koops to create a selection of unique fashion items, after their successful collaborations in 2019.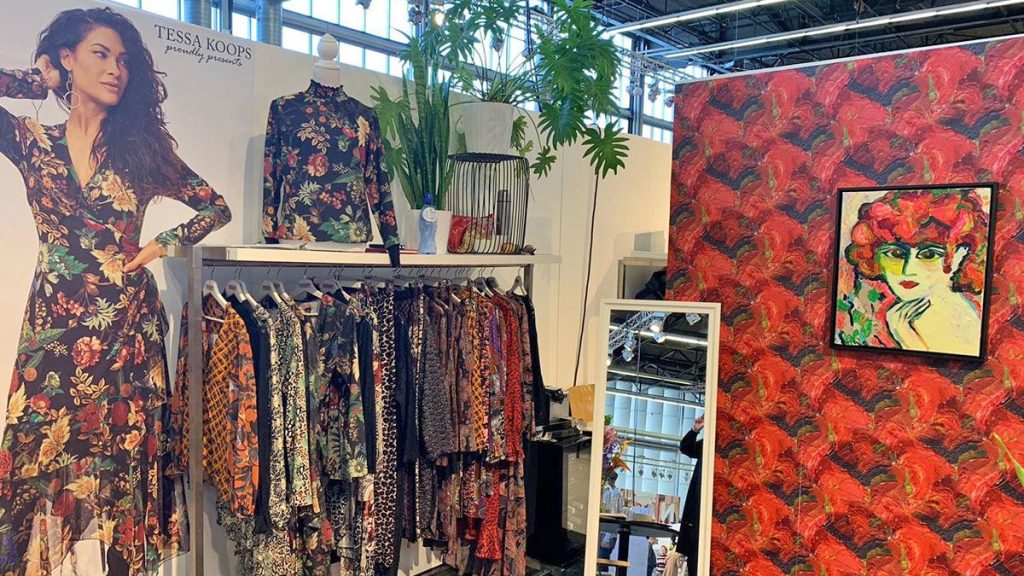 Durst – 4.2-A41
Durst, manufacturer of advanced digital printing and production technologies, will present its P5 wide format printing systems and software solutions at Fespa 2022 under the heading "Production Excellence". As one of the largest exhibitors, with more than 800m2 exhibition space, Durst Group will also present the Vanguard printing systems for the first time in Europe. Looking beyond the horizon and as a possible portfolio extension for LFP customers, the Durst TAU RSC platform for label & flexible packaging printing will also be shown. Another premiere will take place with the launch of a new P5 super-wide printing system.
"We are excited to showcase our comprehensive solutions for the LFP market at Fespa 2022," says Christian Harder, Vice President Sales, Durst Group. "We will be exhibiting a total of 6 printing systems, including a completely new development for super-wide printing, introducing Vanguard printing systems to Europe and highlighting new market opportunities with a label printing system. With Production Excellence, we are pursuing a holistic solution to make our customers' production cycle as efficient as possible. Accordingly, the flexibility and versatility of the printing systems as well as the integration and automation with Durst software solutions play a central role in our presentation."
The Durst Group provides detailed information about its FESPA presence on the following landing page and also offers tickets and appointment scheduling: https://www.durst-group.com/fespa2022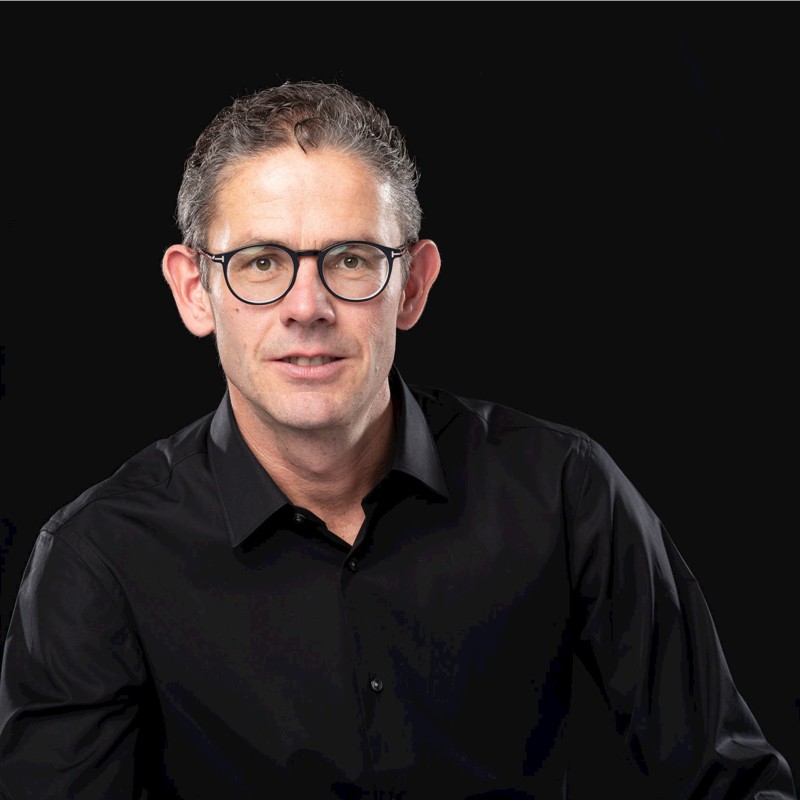 Agfa – 3.2-D20
A variety of print applications will take center stage and provide plenty of food for thought at Agfa's booth, including:
Corrugated cardboard displays featuring varnish (The Jeti Tauro H3300 HS LED)
Vibrant soft signage prints (The 3.2 m Avinci CX3200 dye-sublimation printer)
Flexible media – even the thinnest, most heat-sensitive ones (The Oberon RTR3300 is a sturdy 3.3 m roll-to-roll machine)
Also on demo will be Agfa's workflow software Asanti, which seamlessly interlinks the entire print production flow and minimizes manual interventions and errors.
Industrial inkjet solutions
Agfa offers complete industrial inkjet printing systems, such as InterioJet, a multi-pass, water-based inkjet system for printing on décor paper for laminate production, and Alussa, a state-of-the-art inkjet printing technology that enables the creation of stunning and lasting designs on genuine leather. Both systems were recently rewarded by the European Digital Press association.
In direct relationship with OEM partners, print head manufacturers, system integrators and end users, Agfa also develops high-performance UV and water-based industrial inkjet inks for a wide array of applications across a number of market sectors. These inks are used in state-of-the-art, and often custom-made printing equipment that is integrated in existing manufacturing processes.
"We keep improving and expanding our print solutions as we are passionate about enabling sign & display companies throughout the world to produce unique and striking prints – at the right throughput and the right price," says Vincent Wille, President of Digital Print & Chemicals. "FESPA visitors looking to advance their businesses should definitely stop by the Agfa booth. We invite them to experience our large-format inkjet printing demos and to get inspired by our extensive variety of print samples. Most of all, our inkjet experts look forward to exploring together how our integrated offering of printers, inks, software, training and services can meet printing companies' needs and further their growth."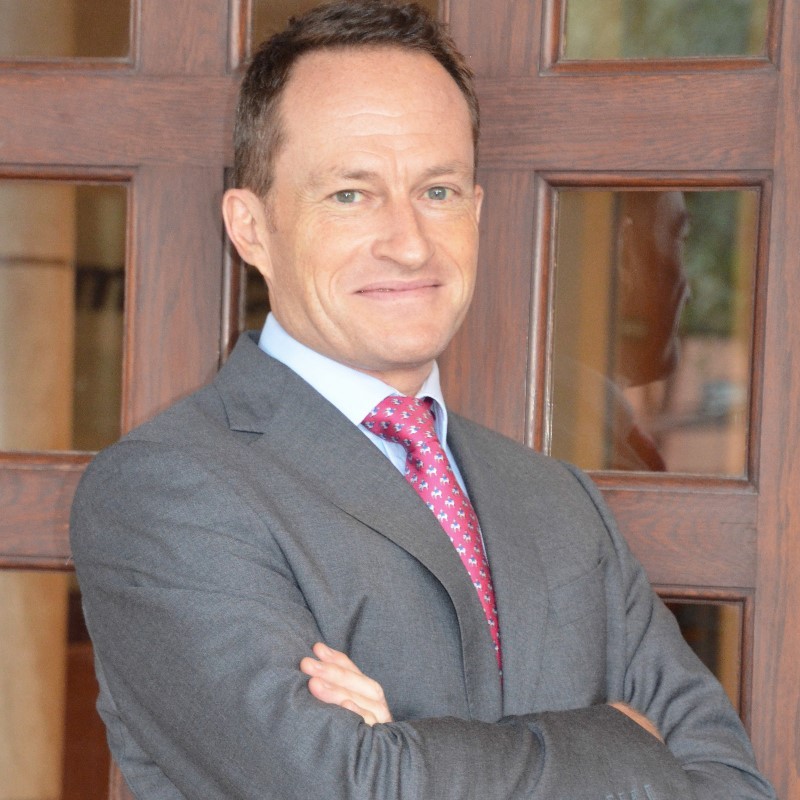 Canon – 3.2-A30
Canon will display a full line up of end-to-end solutions, including the Arizona flatbed series, Colorado roll-to-roll series and imagePROGRAF large format printers.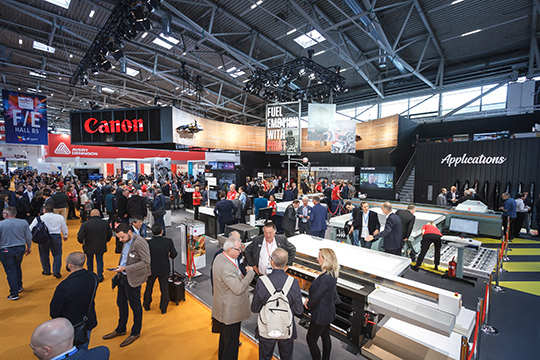 Key products on display:
Colorado 1630
Colorado 1650
UVgel Wallpaper factory
Arizona 135 GT (at Farben
Frikell Booth)
Arizona 2380 XTF
imagePROGRAF GP-4000
imagePROGRAF TZ-30000
EFI – 6.2-A20
The EFI stand includes the speedy VUTEk Q3r with new InSpec in-line monitoring, including new EFI IQ™ cloud management solutions and EFI Fiery® Prep-It™, the EFI Pro 30h LED hybrid roll/flatbed printer and the EFI Reggiani TERRA Gold, an advanced printer for streamlined, greener textile printing.
EFI will be showcasing the fastest roll-to-roll superwide-format solution in its class – the 3.5-metre-wide EFI VUTEk® Q3r LED printer. Part of the VUTEk Q series of printers that also includes a 5.2-metre-wide VUTEk Q5r model, this highly advanced roll-to-roll production workhorse excels on a wide range of applications – from premium POP with multi-layer white and clear to very high-volume campaigns that require the lowest cost of production.
The 3.2-metre-wide EFI Pro 30h LED hybrid roll/flatbed printer, an ideal solution for businesses targeting production display graphics as a growth opportunity. Running at speeds up to 230 square metres per hour, it features four colours plus dual channels of white standard, prints in resolutions up to 1,200 dpi, and includes an EFI Fiery proServer Core digital front end with FAST RIP acceleration technology.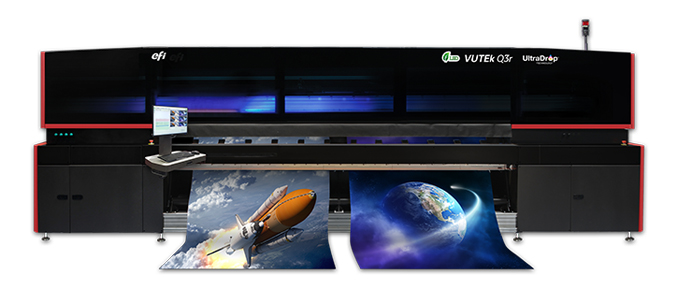 The EFI stand includes the speedy VUTEk Q3r with new InSpec in-line monitoring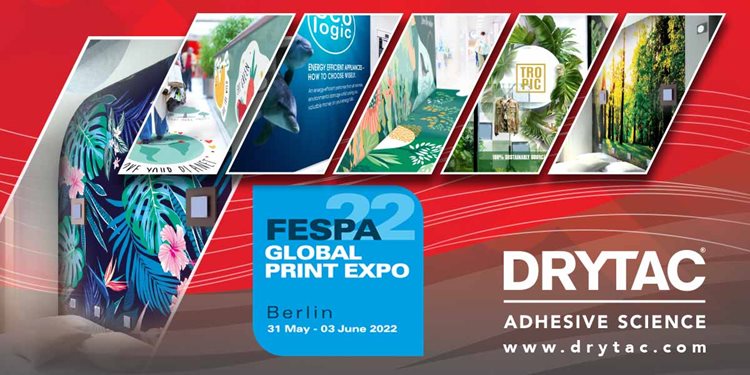 Drytac will be sponsoring a brand-new section at the FESPA event, in the form of the Sustainability Spotlight, where visitors can learn how to make more sustainable and environmentally conscious choices for their business. Drytac will also be sponsoring the Printeriors zone, dedicated to print applications for the interior design and decoration market.
With significant knowledge in both these areas, Drytac will feature a selection of its materials as well as demonstrate its products through a series of specialist video showcases and dedicated speaker sessions.
In the inaugural Sustainability Spotlight zone the company will showcase selected products from its upcoming launch of Drytac Zero. Drytac Zero is a line of environmentally friendly products which set a new standard in sustainable solutions for the graphics, signage and display industries. Designed to offer a sustainable and planet-friendly alternative, while still delivering high-impact and attractive graphics, Drytac Zero products offer a host of environmentally conscious benefits to users. For example, they have up to a 50% lower carbon footprint than comparable solutions and use 20% less fossil fuel resources.
All products in the new range include zero phthalates, carcinogenic additives, plasticisers, chlorine or PVC. Drytac Zero products are manufactured to ISO 14001 standards, are 100% vegan and can be fully recycled, including the adhesive, face film, liner, printed ink and laminate.
Within the Printeriors area (South Entrance) of the exhibition, visitors will be able to learn more about Drytac's wide range of products suitable for interior décor to cover windows, walls and floors and more. These solutions can be used for both short-term and long-term work, and are available as PVC, PET and PP solutions to suit the needs of the customer.
"We are absolutely delighted to be sponsoring both the Printeriors and Sustainability Spotlight zones at FESPA 2022," says Hayden Kelley, CEO of Drytac. "These two features cover subjects and values that are incredibly important to Drytac, and we look forward to showing visitors from around the world how they can achieve their business goals with Drytac."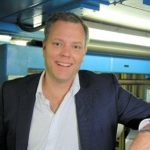 Contra Vision – 2.2-C49
Contra Vision has new products that they want to show to customers at FESPA. They said, "The events of the last two years have stifled opportunities to travel and build relationships so we couldn't pass up the chance to go to the beautiful city of Berlin, meet new people and old friends, and showcase our latest products and innovations. We're excited to make ourselves known at the exhibition this year and to reconnect with those we haven't seen in person in some time."
Contra Vision® is the world's leading specialist and manufacturer of perforated window films for printing one-way vision window graphics. The company offers an unrivalled range of perforated window films that perfectly suit every application. It has the widest choice of transparencies, products for long- or short-term durability, in- or outside window application, a solution for see-though graphics at night, plus its exclusive High Definition products.
New for FESPA
Contra Vision is showing a full range of perforated window films along with unique micro-perforated products for the first time. These products enable graphics to appear in High Definition while providing unrivalled see-through effects from the inside, making them ideal for use on vehicle windows and retail displays.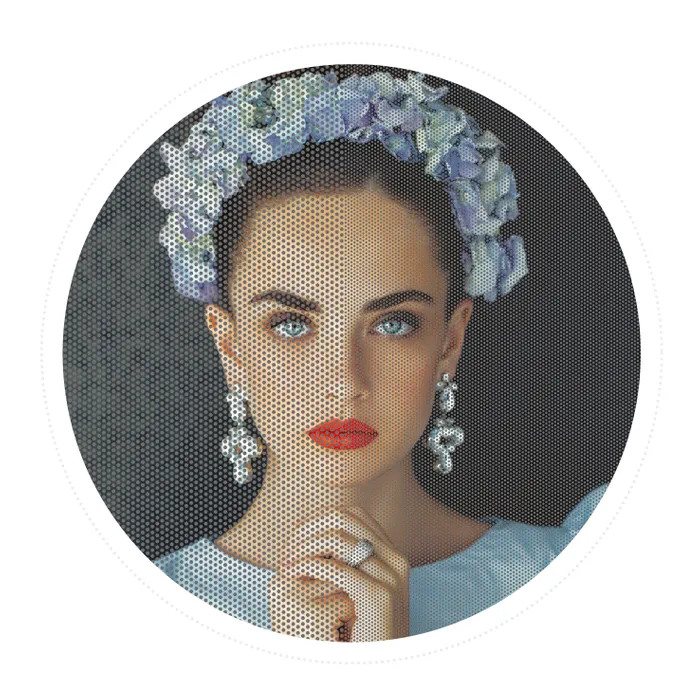 InkTec – 6.2-C20
InktTec will be showcasing the fast economical and intelligent JETRIX printer range, which provides the ideal solution for photographic, signage and industrial printing needs.
JETRIX LXi8 LED UV Flatbed Printer
This printer offers a 3.2m wide flatbed, which has been specifically developed to deliver high production speeds of over 206 sqm/hr combined with optimal printing results. As well as its stunning top speed, the LXi8 hosts a number of new features, including InkTec's latest generation LED-UV ink and is powered by a dedicated JETRIX GUI (Graphical User Interface) which simplifies, optimises and automates as many steps as possible.
JETRIX LXiR320 LED UV Roll-to-Roll Printer
This 3.2m large format roll to roll digital LED-UV printer with Konica Minolta heads, delivers speeds of up to 110 sqm/h. Perfect for large scale production of PVC, flex, fabric banner, backlit banner for indoor and outdoor signage.
This roll to roll printer can print up to 2160 dpi maximum resolution and its RIP software can be PrintFactory, Onyx or Caldera.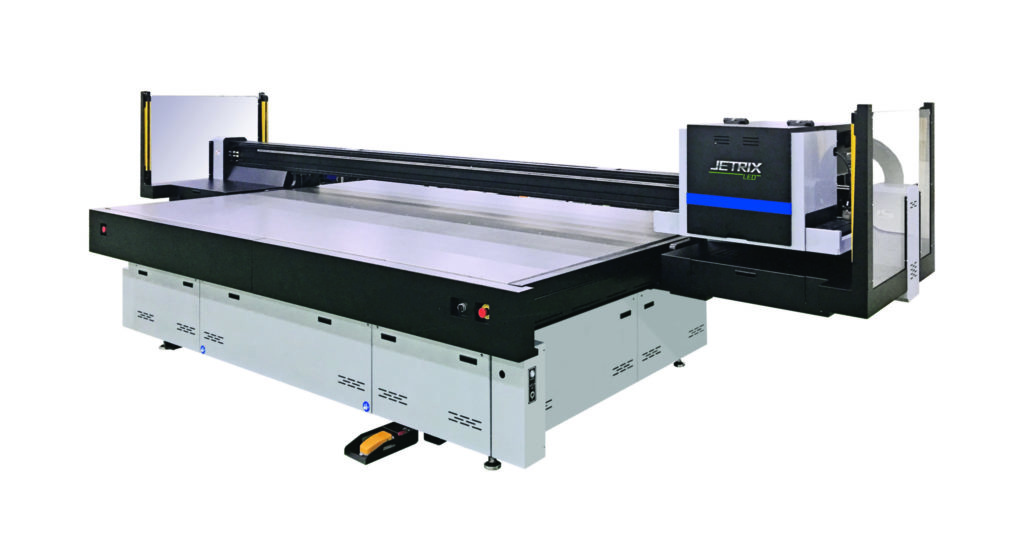 See the JETRIX LXi8 LED UV Flatbed Printer
Mutoh – 1.2-C40
Mutoh will present its new XpertJet Pro 54″ and 64″ wide sign & display models, a new generation of digital inkjet printers featuring brand new head technology, a new weaving algorithm and Mutoh's genuine VerteLith RIP software.
The XpertJet 1641SRP and 1341SRP will deliver a significant improvement in both print quality and print speed. The new printers also integrate automatic alignments to ensure uninterrupted production and consistent quality. Mutoh XpertJet Pro printers are targeted at high quality volume production of sign & display graphics for long-term outdoor applications and durable prints for indoor use.
Next, Mutoh will also display its award winning direct-to-object flatbed A3+/A2+ sized LED UV printers, called XpertJet 461UF & 6661UF, the ValueJet 1638UR2 64″ wide roll-to-roll LED UV printer and last but not least new GREENGUARD GOLD certified Orange inks for the XpertJet 1682SR 8-channel printer. Visitors will also be able to discover a range of applications made with Mutoh printers to inspire themselves with the multiple application possibilities on Mutoh equipment for sign & display, digital transfer and specialty/industrial applications.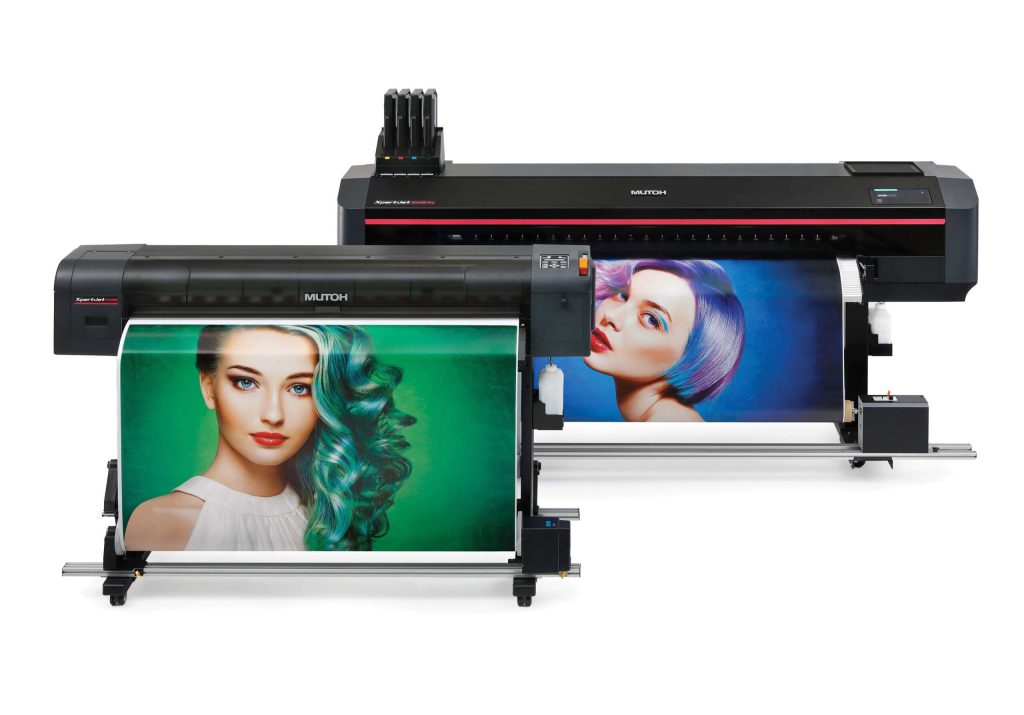 Mutoh will present its new XpertJet Pro 54" and 64" wide sign & display models
Show Features
Key features at the show include Printeriors, Sustainability Spotlight, World Wrap Master and the Associations Pavilion.
Printeriors 2022 – An inspiring showcase of sustainably produced décor
Printeriors 2022 will offer visitors a comprehensive showcase of sustainably produced interior décor, with a clear emphasis on applications manufactured using environmentally responsible processes and ethically sourced materials.
Located in the South Entrance of the exhibition, Printeriors incorporates seven themed zones decorated using nature-inspired designs by artist Jasper Goodall. The feature is designed to deliver an immersive visual and tactile experience that encourages visitors to touch and feel, and to actively use the space for networking conversations or relaxation. Two new themes have been introduced for 2022 – Nature's Canopy and Surface Micro – both tying into the overall ethos of sustainability, while introducing new elements of surface interest and texture.
Printeriors 2022 is a diverse collection of digitally printed applications, the result of collaboration with some 30 partners. The showcase includes textiles, wall coverings, floor graphics, window films, printed carpets, rugs and cushions, leathers, ceramics, metal and lenticular artwork, display signage, decorated tabletops, fine art prints, lighting and lightboxes, and acoustic fabric walls.
"The focus on sustainability at this year's Printeriors reflects its growing significance in the interior décor and fashion industries", explains FESPA Textile Ambassador and Printeriors Curator, Debbie McKeegan. "The pandemic has enhanced our collective focus on our natural environment and brands find themselves responding to escalating consumer demand for products with reduced environmental impact.
"Meanwhile, legacy supply chains involving mass off-shore production, warehousing and long-distance transportation are being replaced with near-shoring, just-in-time, small batch production, with increased use of digital technologies to personalise and customise. Sustainability, durability and circularity are the new watchwords in décor, and a visit to Printeriors in Berlin will demonstrate that stunning multi-sensory interiors can be created while still safeguarding our planet."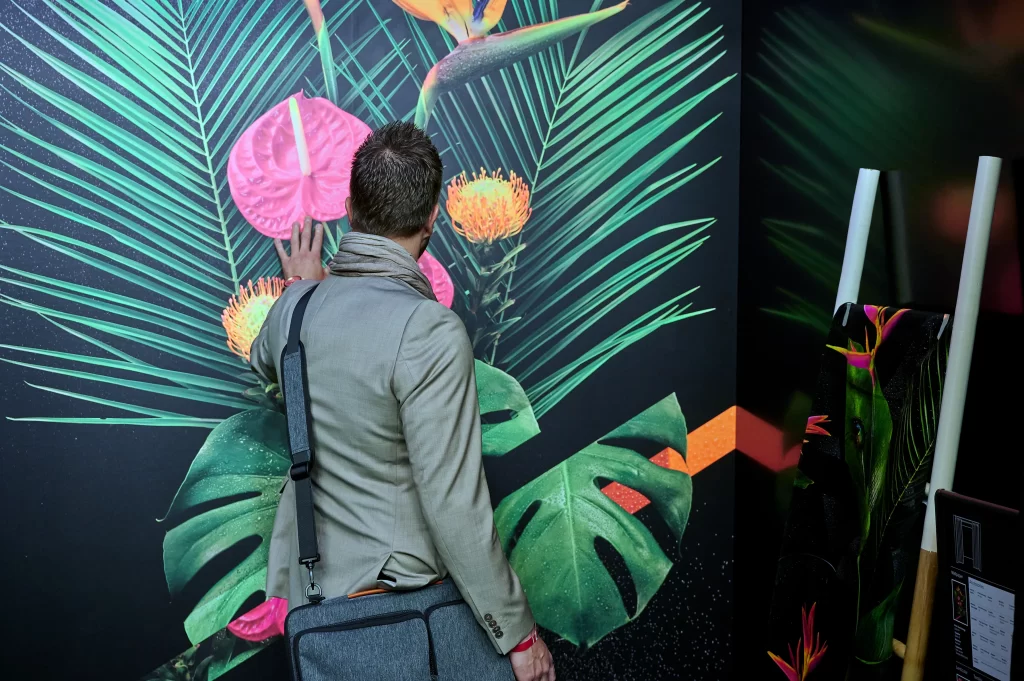 Deluxe Partners Drytac, HP and Kornit bring a range of environmentally responsible innovations to Printeriors in Berlin. Printed glass films with embedded textures from Drytac have been used to embellish mirrors, with other vinyl products featuring on floors, walls and display signage. HP's Latex 800W printer has been used to produce layers of white ink to create new decorative surface effects, in addition to textiles, wall coverings and graphics visible across all seven collections. The Surface Micro zone features several textile applications printed by Kornit on organic materials using its waterless NeoPigment™ technology, as well as XDi 3D applications such as gold textures.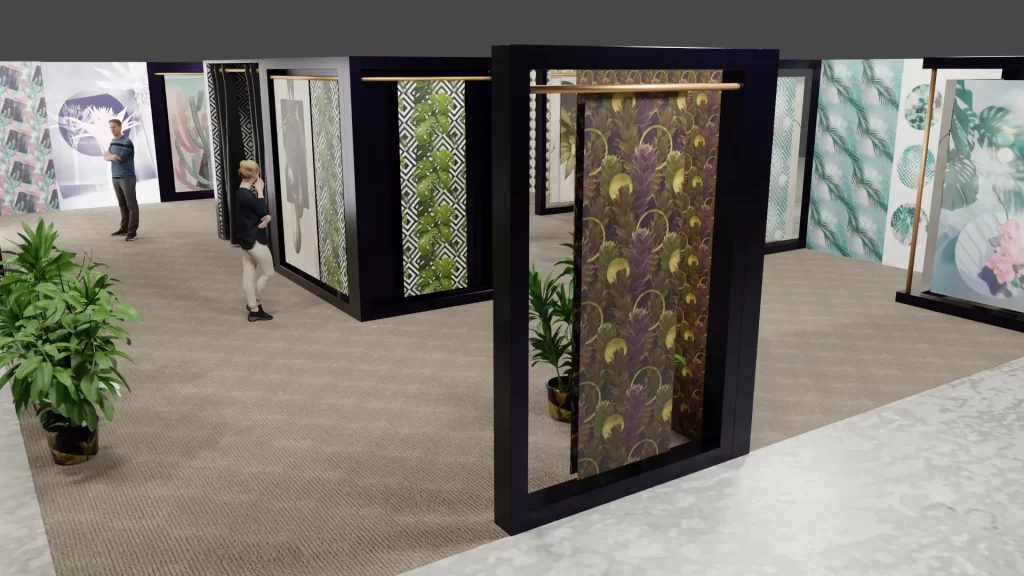 The Tropical Neons and Surface Micro themes feature printed leathers produced by Premium Partner Brother, while the Cacti Geos and Organic Flora zones will glow with neon printed wall coverings from Mimaki. Other contributing partners include Agfa, Ava Cad/Cam, Canon, Chromaluxe, Durst, SwissQPrint, CMYUK, Dufaylite, EFI, EFKA, Eye 4 Colour, Imageco, John Mark, Pongs, Premier Digital Textiles, PressOn, R A Smart, Sentec International, Veika Dimense and Zimmer.
Free guided tours of Printeriors are available at 11.00h and 15.00h on the first three days of the show, and at 11.00h on the final day. Host Debbie McKeegan will explain the design process, production methodology, and the materials and digital technologies used to manufacture all the products on display. Find out more about Printeriors and register for the tour – click here
Sustainability Spotlight
FESPA's Sustainability Spotlight show is a brand new feature that will provide useful, informative and actionable advice to address the needs of People, Planet and Profit.
The ability to remain Sustainable is achieved by understanding your operation and knowing the opportunities and risks that you face now and in the future.
The program includes a series of conference sessions that are free to attend with topics that have been carefully selected to provide the toolkit you need to reduce costs by optimising energy and resources. These include energy management, carbon foot printing operations, sustainability certification schemes, graphic products, textile products and aquatic and atmospheric pollution control plus much more.
To register for the Sustainability Spotlight conference – click here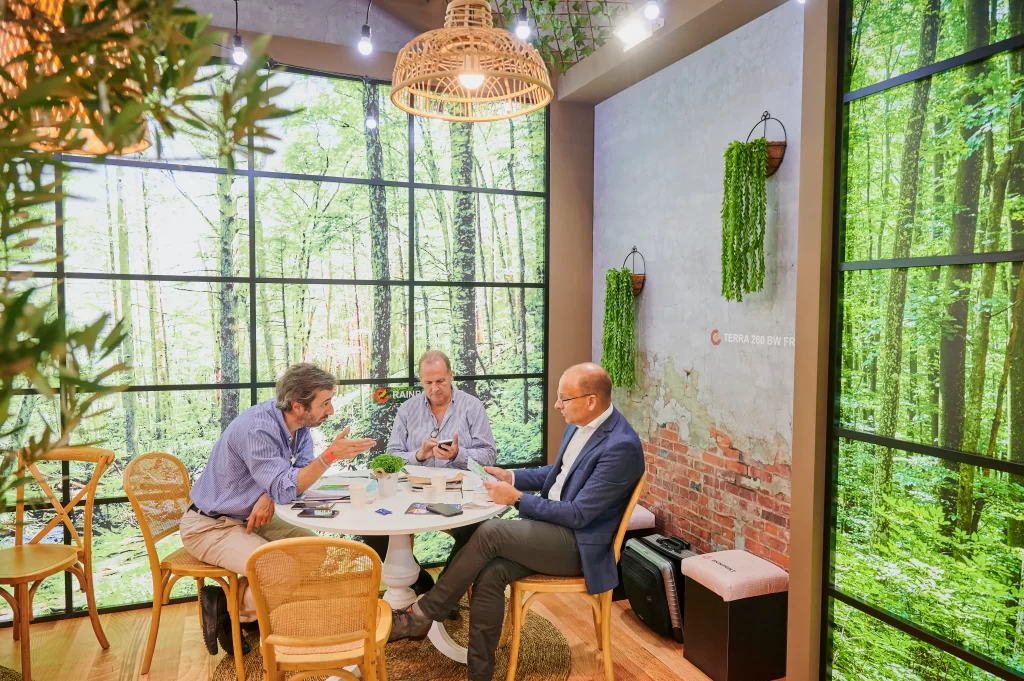 World Wrap Masters – Europe 2022
The World Wrap Masters Europe 2022 will be taking place LIVE at FESPA Global Print Expo. As well as the competition itself, the event will feature training workshops and demonstrations.
This event is an official qualifying event for the World Wrap Masters Series and the winner will qualify to compete in the World Wrap Masters Final 2022 – which will be held at the same location at Berlin Messe from 2nd – 3rd June 2022.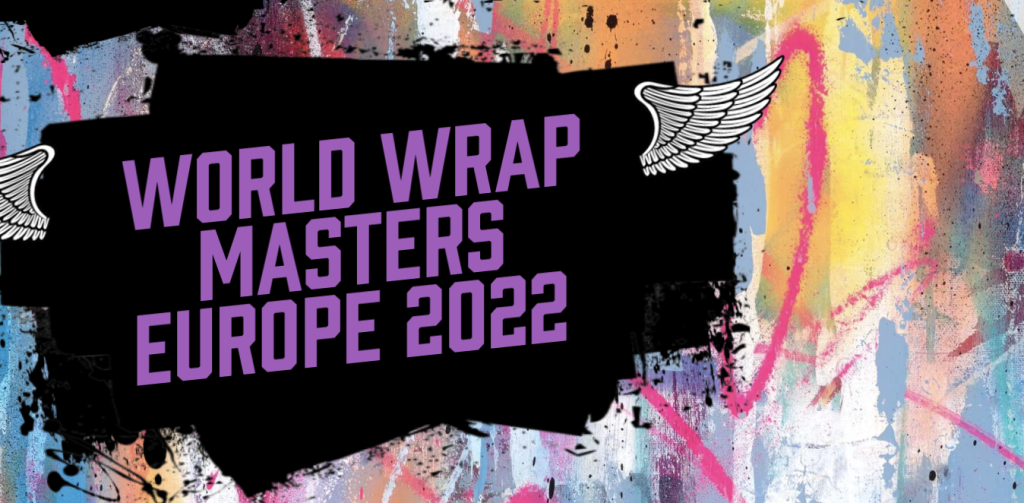 Associations Pavilion
Another innovative and brand-new feature for FESPA 2022 is the Associations Pavilion. This is a chance for visitors to enjoy an inspirational printed showcase representing each country within our global network of national printing Associations.
For the first time, FESPA is bringing together the best examples of print across the Associations community, representing our membership base of over 16,000 printers worldwide. You will be inspired by the power of print and learn more about becoming a member of your own local Association and how it could support you and your business.
To learn more about this feature please click here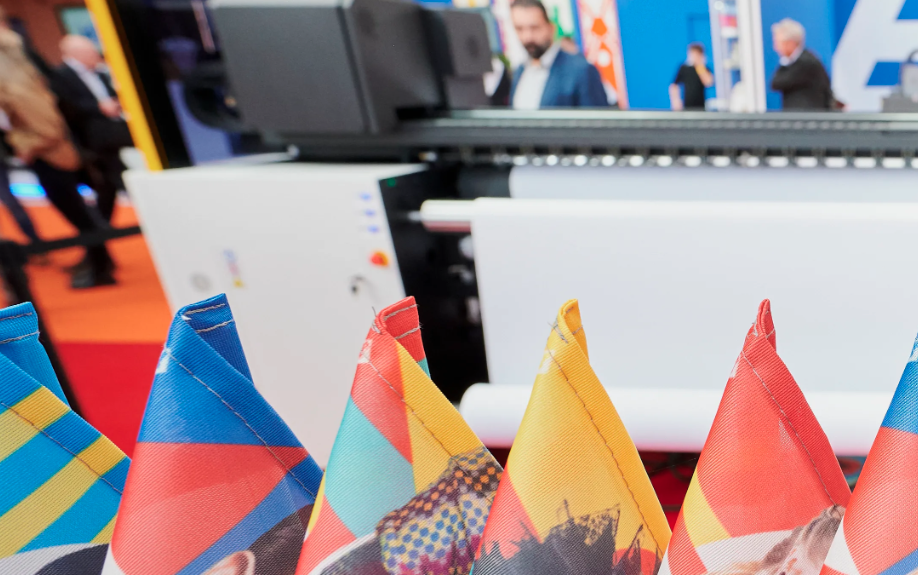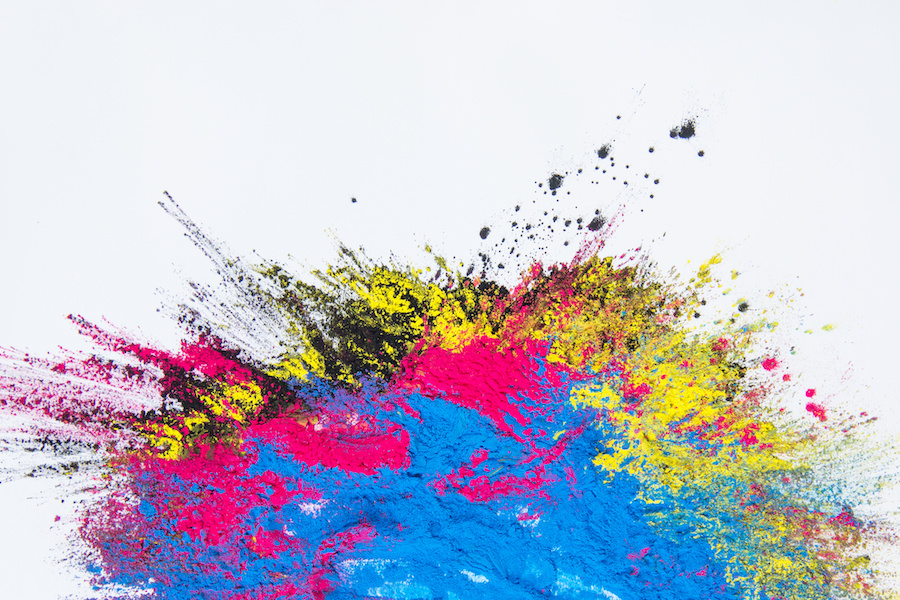 When you're trying to achieve consistent and repeatable color, your first inclination might be to jump right into making…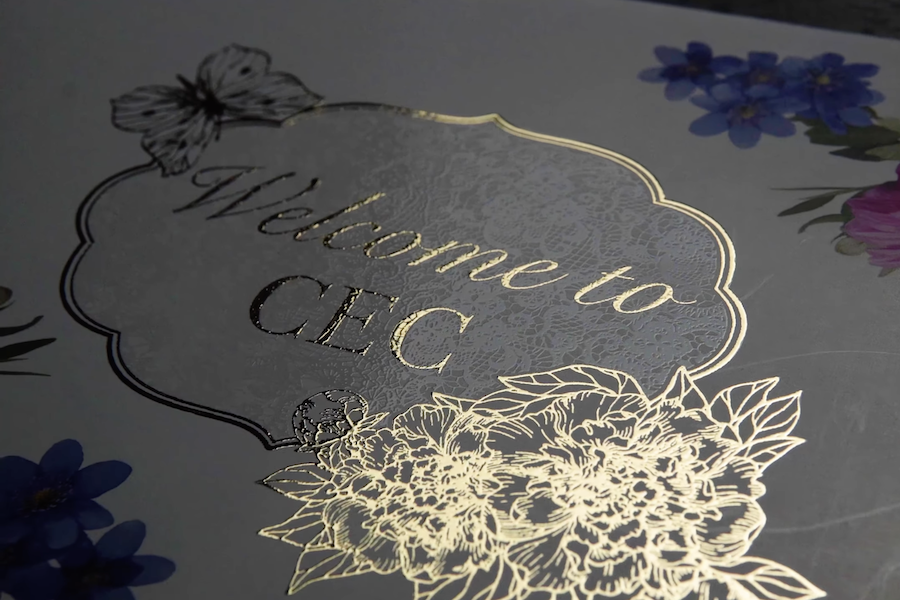 Konica Minolta and MGI are well-known equipment manufacturers in the printing industry. In this Print Sample TV episode with…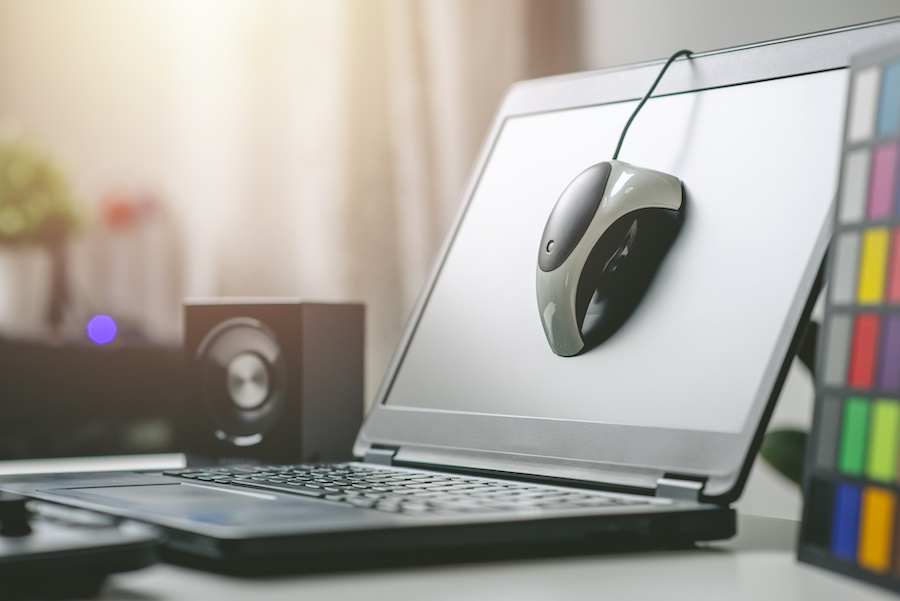 As human beings, we can see millions and millions of colors with our eyes. Of course, we want to…